To use Expressus Ver3.01, a license which upgrade term is after 10/01/2005 is required.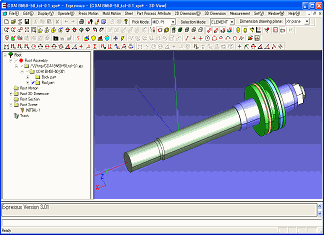 At the time of reading of IGES, the element which is invisible were read in the state of un-displaying. Moreover, the scene holding the display On/Off state at the time of reading is created automatically. A scene name is INITIAL-1 etc.

The invisible elements of IGES data are read as display Off elements,
and the scene holding the state of display On/Off was created automatically.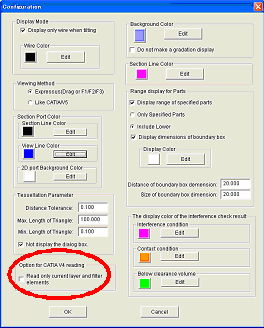 The option which reads only the current layer and current filter element at the time of the writing in CATIA V4 was added in the configuration dialog box.

The addition of CATIA V4 data reading option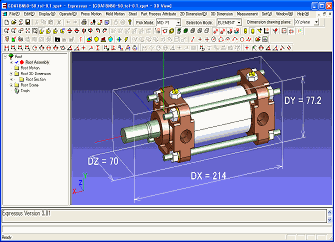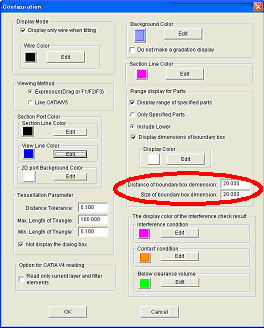 The distance of boundary box dimension and the size of boundary box dimension can be able to specify in the configuration dialog box.

The attribute settings of boundary box dimension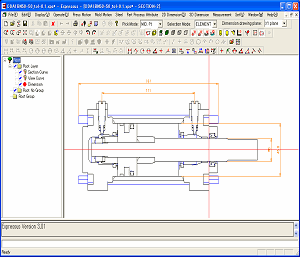 Example of 2D port background color setting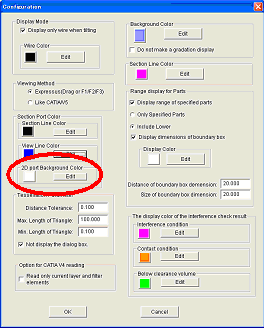 Although the background color of 2D port was fixed to black conventionally, it came to be able to perform color specification like the background color of 3D port in the configuration dialog box.

The background color of 2D port can be specified now.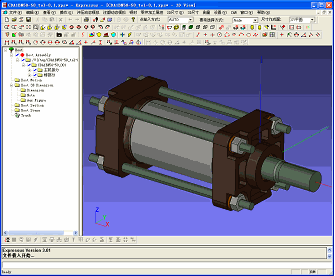 The language version which can be performed depends on the language of Windows and the regional and language options
You can choose language version from Japanese, English and Chinese(simplified) at the time of the setup.
Simplified Chinese Version has been released on Expressus Ver3.01.
Expressus can be used on the Windows of Chinese version.

Simplified Chinese Version has been released.
Additional matters at
Expressus
Ver3.01


Element selection by color function
EIt is the function which changes the element or node near the specified element color into a selection state. The selected node and the selected element can be treated like what was chosen by other methods, such as region selection, and can be used for various uses, such as topological operation, and node change, color change.

EFigure comparison of two models can be performed. The part below a tolerance is searched and a color display is performed. This function is an effective at the time of design change of a product model etc.


Model comparison function
Additional matters at Expressus Ver2.50
Additional matters at Expressus Ver2.65

Four view display
Isometric port and three view are displayed.



The mode of partial inclusion and whole inclusion on the region selection are added


LOD support
LOD is short for 'level of details'. This function improves the display efficiency by briefly
displaying small shapes.


Measurement commands
The mesurement commands can get the result faster than dimension commands.
The results will be output to the text box, so, they can be used with cut and paste operation.


Projected area caluclation command
This command can get a result of projected area by indicating any project direction
The result will be as a projection. So, it can add same dimensions or same notes in the 2D port
as same as section and view.
Also, mold clamping force calclation by indicating lateral pressure fudge factor, cavity inside face pressure and safety factor is available as a option.
This is effective function on the initial phase of mold design.

Additional & change matters at Expressus Ver2.43

Weight saving of XPS file
EThe save size of a XPS file has cut down sharply.
(About 45% on average of size curtailment)

EKeep in mind that the XPS file created and updated by this version can't be opened
in a former version.


Improvement in display speed

EThe efficiency of figure display speed processing in 3D port or a motion port has
increased, so that display speed improved sharply.


Change of license system
EThe license tool program which newly carries out license management
will beis released.
EAll of a license setup, a check, etc. can be performed by this license tool.

EThe attestation system has changed into what is depended on Computer ID.
Please specify the computer ID (not MAC address as before) displayed
in the license tool to apply the license.


The license migration to other computers ias possible.
EWhen you migrate the license, please announce us by specifying the export key obtained by performing license export in the license tool and the computer ID of the cpmputer of after migration on a license migration page.

EThe one time license has added at the time of installation.

EThe one time license can estimate all functions for given times

EThe conventional free license was abolished with these change.


View port function
EThe port where only the direction of visual axis differs from 3D port can be displayed.

EThere is no restriction in the number of a view port, and two or more view ports
can be used.


By the scene function, it also came to reproduce the On/Off state of dimensions
and sections.


The existence of the gradation of a background color can be specified now.
The option to specify has added in 'Configuration'.


Improvements on press motion
EThe display color of the interference check result can be set up. now

EThe colors of Interference condition, Contact condition and Below clearance volume
can be setup.
EIt corresponds to revolute center movement (F4 key) in the motion port.

EThe reading speed of the XPS file in which a press motion setup is included
has been improved.

Stability improvement
The stability improvement is planned by improving the memory management.

Proxy setting
EAutomatic configuration script is supported on proxy setting of Expressus Messenger when 'use browser setting' is checked ..
EThe option which doesn't perform interference check between mechanical parts has added.

Notice
EOnly the license which expiring date of upgrade is after 01/01/2005 can be upgraded.
EOS of Winodws98 or WindowsME is not supported.