home > New released functions on Expressus Version 2.25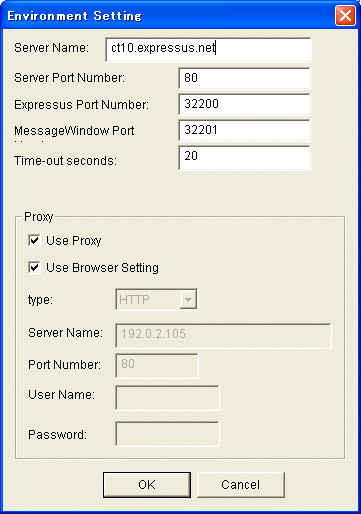 ・It's connected with TCP port numbers 32100, 32500〜32999 at the current ExpressusRTC protocol, but when these ports were closed because of the using environments, changing the configuration in rooter etc. were required.

・We'll change the port numbers to use 80 and 443 only.

・Port number 80 is used for viewing the web sites that the addresses startsfrom htt:// .

・Port number 443 is used for viewing the web sites corresponding SSL just as shopping sites and the addresses starts from https:// .

・Both of them are used on a daily basis, and because only these 2 port numbers are needed in ExpressusRTC, it makes you possible to use ExpressusRTC wherever you can viewing web sites.

New functions at Expressus Version 2.25

The points of Function improvement

Environment setting of EXPMES
・Proxy - check both of 'Use Proxy' and 'Use Browser Setting'
・Multiply Time-out seconds when it causes a time-out in mobile connection.
・Expressus Port Number and Message Window Port (used inside cliant PC) - '32200' and '32201'
・Server Port Number - '80'
・Server Name - 'ct10.expressus.net' or '220.110.159.139'
・For using Expressus RTC after this update, upgrading to Expressus Ver2.30 is required.