home > about new license system
The license migration to other computers is possible.
The license system is changed at Expressus Version 2.41 released soon.

License migration was not possible after license issue till now, but the new license system has make it possible.

In order to carry out the license migration, Expressus at the present machine needs to be upgraded first.

The point of change
The license tool for checking a setup, a state, etc. of the license will be released.

All operations related to the license can be performed from license tool.

Computer ID can be checked by starting license tool.


When having not set up a license, Expressus operates in the state of 'one time license'.

'One time license' is a temporary license which can be performed immediately after installation for the number of times set up.
Computer ID is needed for a license application in stead of MAC address.

<<<The license migration procedure is as follows.>>>

1. Carry out license export from a license tool.

2. Search the computer ID of the migration place.

3. From the license migration page on the web page, specify the license export key and the computer ID of the migration place, and make the license migration application.

4. Set the sent license password in the computer of the migration place.

After license export is carried out, the license of the machine becomes invalid and impossible to use Expressus .


When you carry out license migration, please upgrade to Expressus Ver.2.41 and over.

In order to use Expressus Ver.2.41, an effective maintenance license is required as of Jan.31,2005.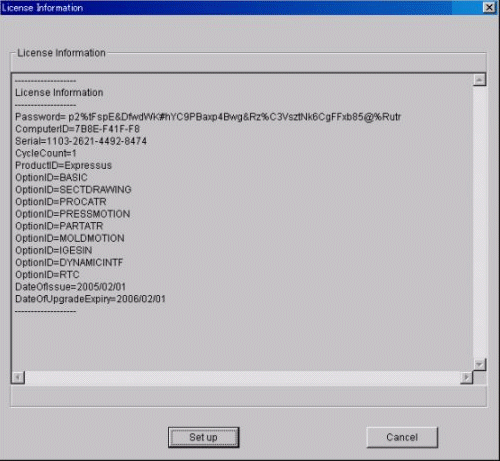 Environment where Expressus operates is Windows NT40 / 2000/ XP.

Be careful that it is not installable in Windows Me etc.